Is your refrigerator making unusual noises? Has your food been going off way before the expiration date? Has your refrigerator stopped working altogether? When dealing with these or other refrigerator problems, turn to the refrigerator repair pros at Coach Z's Appliance Repair right away. We offer professional fridge repair for homeowners in Madison and nearby areas, and you can count on us to keep your refrigerator running strong at all times. Rather than live with a refrigerator that's not cooling or that's otherwise giving you less than top performance, let our refrigeration repair experts come to the rescue. Call or e-mail us to schedule your fridge repairs today! 
If your refrigerator isn't working properly, you should seek refrigerator repairs as soon as possible. The longer you wait to get help from a fridge repairs pro, the more money that you could end up spending. Refrigerators are very intricate machines, and even small problems can quickly spiral out of control. To protect your investment, your best bet is to call on Coach Z's Appliance Repair for help in Madison and beyond. Our refrigerators repair pros are here to provide you with comprehensive service that includes troubleshooting, diagnosing, and repairing your unit's issues.
Call our refrigeration repair technicians for assistance if you notice any of the following issues:
Leaking
Over cooling
Clogged drains
Not cooling
Unusual noises
Failure to turn on
Or other performance issues
Regardless of how extensive your appliance's issues are, our refrigerator repair pros have your needs covered. We are committed to providing you with the high level of service and fair prices you deserve. For your convenience, we provide top-quality refrigerator repairs for a wide variety of popular brands. With our help, you can make sure that your refrigerator is always ready to keep your food cool and fresh. 
Refrigerator Repairs That Last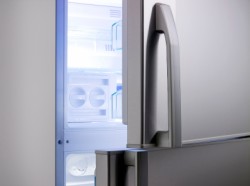 When you work with Coach Z's Appliance Repair for refrigerator repair service, you can expect to get both affordable, flat-rate pricing and quality results that will last. Our fully insured fridge repair technicians are committed to your complete satisfaction, so rest assured that we'll work hard to provide you with nothing less than superior refrigerator repairs. Whether your refrigerator is not cooling or it won't turn on at all, we can find an effective solution to the problem. All of our repair work is backed by a 90-day parts and labor warranty, so you won't have to worry about replacing or repairing your unit again anytime soon. If you do need to upgrade to a new unit, you can count on us to provide you with installation services.
Throw away that refrigerator repair manual today and schedule an appointment for refrigerator repair service with Coach Z's Appliance Repair!