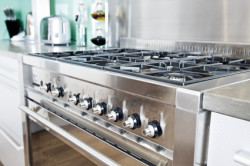 When one of your major cooking appliances breaks down, making hot meals for your family becomes a difficult ordeal. With a broken oven, range, or stove on your hands, turning to unhealthy microwave meals or expensive takeout is much more likely. Rather than put your waistline or your wallet at risk, look to the oven repair experts at Coach Z's Appliance Repair. We're here to offer oven and stove repair for homeowners in Madison and nearby areas, and we're just what you need to ensure that your essential cooking appliances stay in top working order at all times. If you have an oven that isn't heating your food properly or a cooktop that will no longer turn on, oven repair service is your best bet. Get in touch with us today to schedule your oven service appointment! 
When it comes to oven repair service, our technicians have what it takes to get your kitchen appliances working properly once more. Our expertise covers a wide range of oven and stove issues, and that means you can count on our stove repair team to find an effective solution to your unit's problems, large and small. If you note any of the following concerns with your oven or stove, get in touch with us right away:
No heating
Sparking
External heating
Uneven heating
Inadequate heating
Burners not igniting
Issues with dials and timers
Not turning on
And other performance issues
We provide both electric and gas stove repair on most major brands, so you can count on our fully insured technicians to be able to solve the problem with your unit. If you want oven, stove, and range repair you can depend on, Coach Z's Appliance Repair is the name to know. We'll make sure that we get to the root cause of your oven or stove's malfunction, and we'll provide you with accurate, long-lasting repairs. For your peace of mind and security, we offer 90-day warranties on parts and labor. 
Affordable Oven Repairs
If the oven, stove, or range in your Madison-area home is on the fritz, getting it repaired right away is the best way to ensure that your unit doesn't need major repairs or replacement. The longer that you wait to address problems with your oven not heating or other issues, the greater chance that you'll need to shell out cash for a new unit. When you turn to the oven repair pros at Coach Z's Appliance Repair, you can count on getting affordable oven repairs that won't destroy your budget. As a family-owned company, we know firsthand how difficult it can be to stick to your budget when an appliance stops working, and that's why we're willing to work so hard to provide offer you reasonable, flat rates for gas and electric oven repair.
If you want your oven, range, or stove restored to proper working order, but you don't want to shell out for expensive oven service, Coach Z's Appliance Repair is here for you. Call us today to discuss your options for affordable electric and gas stove repair and more!