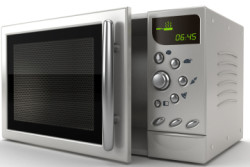 Do you rely on a microwave to help you with food preparation for your family? Microwave ovens offer an easy way to prepare meals or heat up leftovers, saving you time along the way. If there's a problem with your microwave's performance, then this convenience goes right out the window. Whenever your microwave shows signs of disrepair, turn to the microwave repair pros at Coach Z's Appliance Repair. Serving Madison and nearby areas, we're here to offer you effective microwave oven repair. No matter what's wrong with your unit, one call to us for microwave repairs will help get your meal preparation routine back on track!
Microwave problems can take a variety of different forms. Bring in Coach Z's Appliance Repair for microwave repair service if you notice any of the following issues with your microwave:
Sparking
Overheating
Inadequate heating
Unusual noises
Timer malfunctions
And much more!
There's no microwave problem, large or small, that our microwave oven repair technicians can't handle. When it comes to microwave problems, we've pretty much seen it all. That means we know exactly what it takes to provide you with comprehensive microwave repairs. We work on all major brands and models, so there's no reason to let a broken microwave get to you. Whether you need GE microwave repair, Panasonic microwave repair, or repairs for other major brands, we're the name you can trust in the Madison area. Just call us for microwave oven repairs, and you'll have nothing to worry about.
Affordable and Dependable Microwave Repairs
At Coach Z's Appliance Repair, we greatly value our customers' satisfaction. It's our top priority to provide you with microwave service that both fits your budget and offers you long-lasting solutions. To meet our customers' needs, we're proud to provide flat-rate pricing for microwave repair. When you turn to us with a microwave problem, you won't have to shell out a large sum of money for hourly service like you would with other appliance repair companies in the area. Instead, you can depend on getting an affordable, flat-rate price that won't blow your budget. In addition to providing superior pricing, we also offer 90-day warranties on parts and labor, so you can rest assured that your microwave repair services will last.
If you've been having problems with your microwave, get in touch with a microwave repairman at Coach Z's Appliance Repair today. We're ready to help you solve your microwave issues right away!