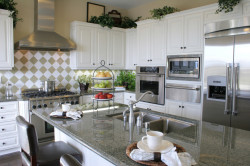 Cleaning up scraps of food after dinner is a piece of cake when your garbage disposal is in proper working order. However, if your disposer becomes clogged or stops working, a mess is soon to follow. Fortunately, you won't have to deal with such a mess for long. One call to Coach Z's Appliance Repair for help, and you'll be on your way to a properly working garbage disposal once more. Serving homeowners in Madison and beyond, we're the garbage disposal repair pros you can depend on for superior service. Don't hesitate to call us at the first sign of a leaking garbage disposal or another issue with your unit. The sooner you call in our experienced technicians, the sooner your kitchen cleanup routine can go back to normal!
Fiddling with a malfunctioning garbage disposal on your own can be both dangerous and costly. Without knowing it, you could end up causing irreparable damage that will require full garbage disposal replacement. Rather than try the DIY approach if your garbage disposal is clogged or leaking, leave it to the pros at Coach Z's Appliance Repair. Our fully insured technicians are ready to successfully handle a wide variety of different garbage disposal issues, including:
Leaking
Clogging
Emitting strange smells
Making unusual noises
Not grinding properly
Not turning on 
And other performance problems
When there's a problem with your garbage disposal, no matter how extensive it might seem, Coach Z's Appliance Repair is at your service. We have the knowledge and experience necessary to handle just about any garbage disposal problem with ease. In addition to providing garbage disposal repairs, we also offer garbage disposal replacement services. If your unit is past the point of repair, you can count on us to replace your it with care. 
Great Savings on Garbage Disposer Repair
When there's a problem with your garbage disposer, you don't have to rush out and purchase an all new disposal. Making the decision to replace a garbage disposal before you know the extent of its issues can end up costing you! Instead, turn to the pros at Coach Z's Appliance Repair for great rates on garbage disposal repair.
As a family-owned company, we know how important it is to save money on unexpected issues like appliance repairs, and that's why we're proud to offer some of the best rates for garbage disposals repair in the Madison area. If your garbage disposal is leaking or won't grind foods properly, we're the team you can rely on for an affordable solution. We offer flat rates on all repair jobs, so there will be no extra fees to worry about.
Contact us today to learn more about your options for garbage disposal replacement or repair!