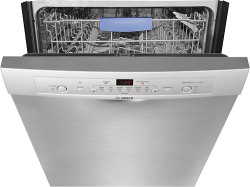 Is your dishwasher leaving dishes dirty even after a complete cycle? Has it started leaking all over your kitchen floor? Is it refusing to run at all? When you have dishwasher problems, there's no need to panic. You can easily solve your dishwasher issues with just one call to Coach Z's Appliance Repair. Offering top-quality dishwasher repairs at a fair, flat rate, we're the name you can trust for help with dishwasher malfunctions. If you live in the Madison area and are having trouble with your dishwasher, get in touch with Coach Z's Appliance Repair today.
Even with great care, dishwashers can break down from time to time. When your dishwasher malfunctions, you may find yourself with a stack of dishes so high that it seems impossible to get through them. Rather than resort to washing and drying your dishes by hand, call on the pros at Coach Z's Appliance Repair for dishwasher repair service. We can handle a wide range of dishwasher issues, including:
Draining problems
Filling problems
Incomplete cycles
Leaking
Loud noises
Drying deficiencies
And much more!
Regardless of how troublesome your dishwasher problems might seem, you can rest assured that our fully insured dishwasher repair technicians will be able to solve them. We provide dishwasher service for most major brands and models, so there's nothing to worry about if there's ever a problem with your dishwasher. Whether your dishwasher is not draining or it simply won't turn on at all, our team will get to the root of the problem. Just leave the hard work to us, and your dishwasher will be back to proper working order before you know it.
Reliable Dishwasher Repairs
When you're in need of dishwasher repair services in Madison, the last thing you want is to spend a huge chunk of money on repairs that won't last. Hire Coach Z's Appliance Repair to handle your dishwasher troubles, and you can count on getting dishwasher service repair that's both reliable and affordable. We believe strongly in customer-oriented service, and we'll stop at nothing to ensure that you get the flawless dishwasher repairs you deserve. To ensure your security and peace of mind, we offer a 90-day warranty on parts and labor for all dishwasher service repairs.
When you need dishwasher repair service you can truly count on, Coach Z's Appliance Repair has you covered. Call or e-mail us right away to schedule your dishwasher repair services!